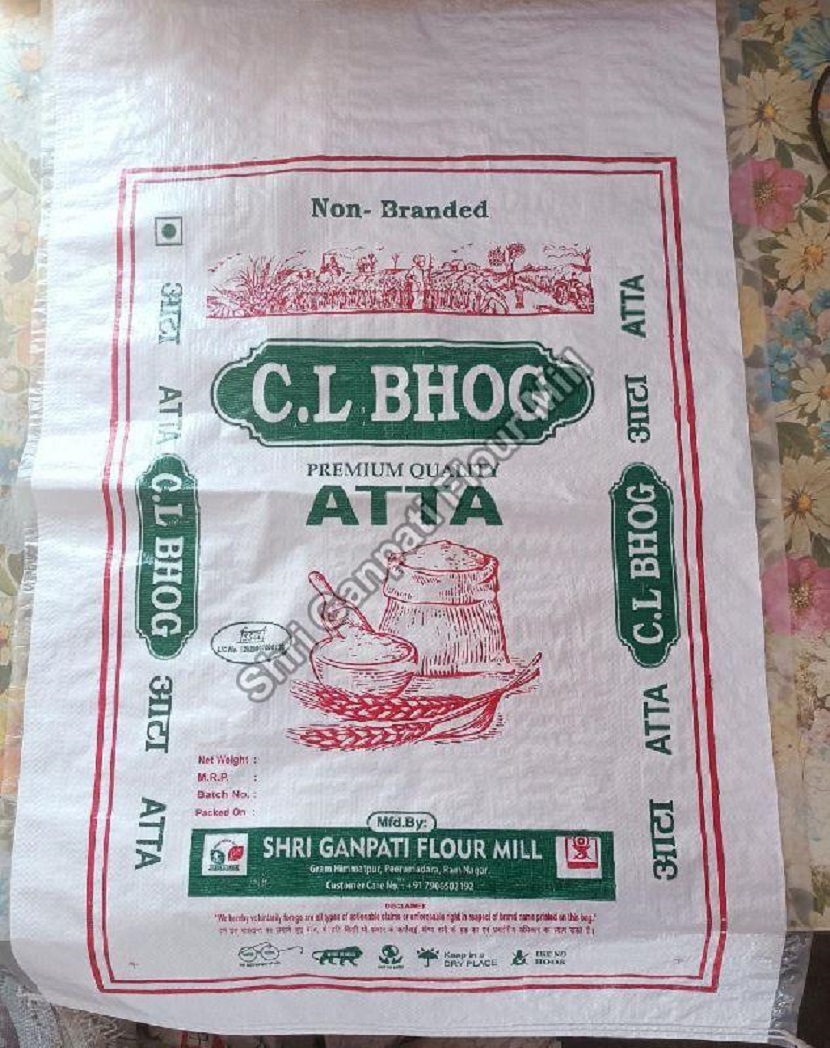 Wheat flour is made from grinding whole wheat grains that give it a slight brown colour and coarsely fine texture. Generally, there are two methods of grinding- one is through roller mining and the other one is stone-grinding. In the case of roller mining, wheat kernels pass through a series of sheets at a high speed and temperature. The traditional grinding procedure doesn't require the exposure of wheat kernels to high temperatures. This allows the dispersion of germ oil uniformly to produce the best Chakki Atta.
This atta has a sweet-nutty flavour with starch as its major component. It also has other substances like gluten and lipid that influences the quality of the wheat flour. Wheat flour is a basic and versatile food ingredient which allows you to make any recipe much healthier and tasty. This common flour available in every Indian kitchen is highly used for making flatbreads which are accompanied by any sabzi.
From making chapatis, puris, and parathas to cookies, cakes, and bread, wheat flour is a great alternative to maida.
Even pizza dough, pancakes, momos, doughnuts, and waffles can be made using wheat flour.
Make sumptuous desserts like halwa, laddoos, churma, and many others.
Wheat flour dominates the Indian market with various brands of Wheat flour manufacturers and suppliers. With the increase of health awareness among most people, the best quality whole wheat flour is easily available in the market. Also, wheat flour suppliers in Uttrakhand are offering traditionally ground atta in both offline and online markets at affordable prices.
There are multiple health benefits of consuming stone-ground wheat flour-
Great for Skin and Hair
One of the major benefits of wheat flour is that it has a positive effect on our whole body. It has selenium, an antioxidant that is an important element to fight against harmful infections. It also helps in getting relief from dandruff and dry scalp. Wheat flour has a good content of zinc and vitamin E that promotes lustrous and strong hair. It also helps in improving skin health by fighting against signs of ageing.
Improves Digestion
The fibre content in wheat flour offers numerous benefits to the body. It not only promotes better digestion but also helps in removing harmful toxins from the body. Common stomach problems such as gas and constipation can be relaxed with the consumption of whole wheat flour.
Detoxifies the system
Wheat flour helps in stimulating clean blood and eliminating harmful bacteria due to its antibacterial properties. It helps in improving the intestinal health tract and maintains a healthy colon. With good digestion and detoxification, the overall health of the body also improves.
Prevents Weight Gain
Consuming fibre-rich food can help in promoting weight loss and even lowers the risk of obesity. Having whole wheat grain helps to cut down the bad fat from the body. Being rich in Vitamin B1 which is important for glucose metabolism helps in weight loss programmes.
Good protein content
Wheat flour is a leading source of protein in comparison to other cereals like rice, corn, etc. When combined with curd, paneer, or chickpeas, it becomes the most healthy food. So, now don't ever feel conscious of having your favourite paneer paratha combo with curd.
Reduces the risk of heart diseases
The great health benefit of consuming wheat flour is that it lowers the risk of heart disease. Being loaded with magnesium, it helps in lowering insulin resistance that controls the levels of blood sugar. Thus, it is a great food choice for people who are diabetic.
Reduces the risk of cancer
Including wheat flour in your diet helps in reducing the risk of skin cancer. The presence of selenium in whole wheat grain not only nourishes the skin but also prevents skin cancer. It is also rich in folic acid (Vitamin B9) which helps in producing red blood cells. This prevents DNA changes that can cause cancer.
Reduction in chronic inflammation
Any kind of inflammation that lasts for more than a few months is considered chronic inflammation. It can be caused by numerous factors, including any allergy or immune system imbalance. Those who consume refined grains more often than wheat are likely to suffer from inflammation. Wheat flour is a good source of Vitamin B complex which is good for inflammatory regulations in the brain. Therefore, one of the main benefits of including wheat flour in your diet is that it reduces inflammation.
Regulates PMS symptoms
The presence of Vitamin B in wheat flour also helps in easing the PMS symptoms. The magnesium content in whole wheat also helps in relieving anxiety and pain caused by PMS symptoms.
Wheat and rice are the two main crops in India and North India dominates the wheat cultivation in the nation. India is the second largest producer of wheat and Uttar Pradesh is the leading wheat-producing state. Other northern states which have a considerable amount of wheat production are Haryana, Uttarakhand, and Punjab. Most of the population survives on this major staple food and thus, it is important to maintain a regular supply. There are many wheat flour suppliers in Uttrakhand that supply 100% whole wheat flour with no maida.
The providers of wheat flour should take due care of the following aspects-
They should source wheat grains directly from the best farms to ensure the production of top-quality natural atta.
They should have a state-of-the-art infrastructure with the latest machines to process superior quality wheat finely.
They should use traditional stone-grind methods to maintain things as natural as possible.
They should have a team of quality controllers to ensure that quality is consistent with each batch of wheat flour.
They should supply wheat flour in high-quality customized packaging to meet the demands of different clients.
They should offer delicious and nutritious flour in compliance with standards laid by FSSAI.
Final Thoughts
Thus, adding wheat flour to your diet is a serious decision for healthy living. Look for wheat flour suppliers in Uttrakhand to enhance and assure overall wellness of physical, and mental health and beauty.