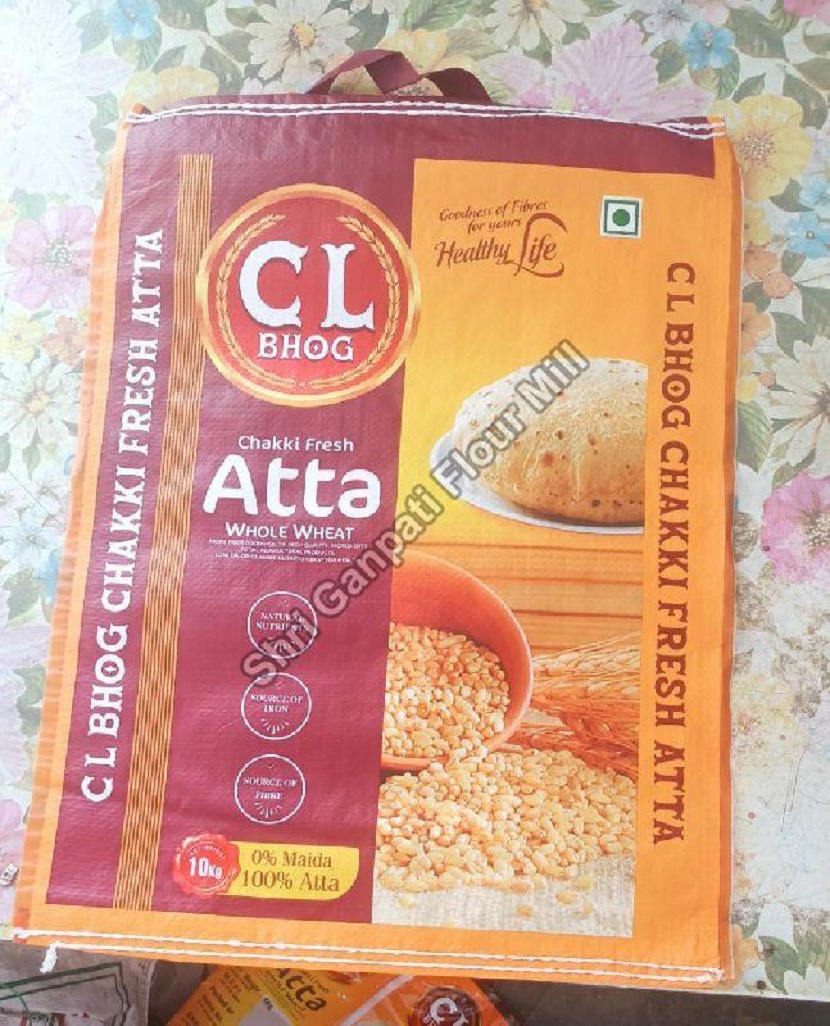 Atta is a good wheat flour that originated from wheat. Atta flour helps make flatbreads such as roti, naan, paratha, puri, and chapatti. Atta flour is the most helpful flour in India. Wheat is beneficial to make atta. It has a high gluten content, and it provides unique elasticity.
When manufacturers make dough out of the atta flour, it is strong enough and can be rolled into a thin sheet. Atta is beneficial for making good quality chapatti. People traditionally grind atta in the home on a stone chakki mill. If you want to make chapatti softer, you should use more water.
The Significance of the Stone Grinding Method
The best quality chakki atta is manufactured through the traditional grinding process. Whole grain stone ground flour contains functional grain components such as endosperm, germ, and bran. These materials remain in their original state to maintain the quality of chakki atta.
When the stone grinds slowly, the wheat is not exposed to excessive temperatures. According to the Chakki Fresh Atta Suppliers in Uttarakhand. people prefer to consume stone-grinded chakki atta due to its texture, superior nature, and nutty flavour.
Reasons for Using the Traditional Atta Grinding Method
The significant causes of using the conventional atta grinding method by chakki fresh atta supplier in Uttarakhand are as follows-
1. Chakki fresh atta is gr with a stone ground process that grinds slowly and stays cool. The high-speed rolling flour mill can generate excess heat to kill the germs in the flour.
2. Whole wheat flour is manufactured by commercial milling wheat kernel, referred to as berries. This process involves breaking the bran, and it protects all the kernel's nutrients.
3. Stone-grinded fresh flour can give a unique flavour and delicious fibrous texture. In addition, stone-milled flour is high in nutrients.
The Health Benefits of Consuming Chakki Atta
The significant health benefits of consuming whole wheat chakki atta are as follows-
• Wheat consists of zinc that boosts vitamin A production in the body. Vitamin A is beneficial for keeping the eyes healthy. Therefore, regular consumption of whole wheat flour can improve your overall health benefits.
• Wheat is a unique source of zinc that can slow down your ageing process. In addition, vitamins in chakki atta are helpful for your skin, and it prevents skin cancer.
• Magnesium in chakki atta can cure pressure and pain. It is very much beneficial for your health.
• If you want good mental health, you should consume chakki atta. Vitamin E and B present in chakki atta can improve your mental health.
• Chakki atta can reduce unwanted fat from the body. Chakki fresh atta can distribute healthy fat in the body. Therefore, it can prevent weight gain.
• Whole wheat chakki atta is the best alternative to maida. You can add whole wheat chakki to make pizza, bread, and biscuits.
• Chakki atta can prevent colon cancer. Regular consumption of this atta can promote waste elimination and easy bowel movement.
The Uniqueness of the Traditional Stone-grinding Method
The excellent quality chakki atta is manufactured through the traditional grinding process. There are several benefits of ground wheat flour. Whole grain stone ground flour contains unique components such as bran and endosperm.
And germ to maintain the natural and original properties. When the stone grinds the wheat slowly, it does not expose to excessive temperature. Many people prefer the stone ground floor because of its texture. It has a sweet and nutty flavour.
Difference types of Chakki Atta Grinding Methods
Home atta chakkis can be different types-
1. Stone- Stone atta chakkis are similar to the traditional chakki machine. However, it does not have an outer covering like stoneless ones. Therefore, it isn't easy to use. In addition, this machine comes in stainless steel body that is unique.
2. Stoneless- Stoneless atta chaklis is a closed machine that you do not face unwanted cuts and bruises. They use electronic power to convert solid grains into powdered form.
3. Automatic- Automatic atta chaklis have various functions. It has sensors that detect the grains, so it starts and stops automatically.
4. Motor- The motor in a domestic flour mill has two factors to access, power and speed.
5. Grinding Blades- Grinding blades are those that powder the grains to their full potential. Stainless steel grinding blades have sharp edges that are useful for grinding chakki atta.
6. User-friendly- Chakki fresh atta grinding machine has vast usefulness. Try to consider the weight, portability, inner space, heat distribution system, and space for accessories of the chakki atta.
Reasons for Choosing Chakki Atta over Packaged Atta
Atta or fresh flour is a useful consuming product with substantial health benefits. Earlier, people used to buy grains, which was used to get them grounded from nearby mills, resulting in a freshly grounded atta. It is a useful method.
But as time passed, mills also started getting lesser as people needed more time, so instead, they shifted to packaged products. Packaged products take time to reach customers from the time. Chemicals and preservatives are added to the chakki atta to increase its shelf life.
The Uniqueness of the Chakki Flour Machine
The Chakki flour machine is divided into three parts-
• Cleaning Part- Cleaning the middle and small impurities of wheat from the device is essential. Dust, stone, magnetic material, and wheat parts are different dusting elements of chakki atta. Magnetic separator, beating, screening, destoner, and dampening are unique parts of the chakki atta.
• Milling Part- It is essential to mill the grain and separate the flour and bran.
• Mill-Mill is essential to break the integrity of the moving roller.
• Shifter- It is essential to separate the flour, bran, and other products from the wheat to ensure the flour quality.
• Packing- The packing machine can be manual or automatic, which is essential for packaging the chakki flour machine.
From the above information, consider these valuable things while buying good quality chakki atta from the chakki fresh atta supplier in Uttarakhand. You can search online for this purpose.